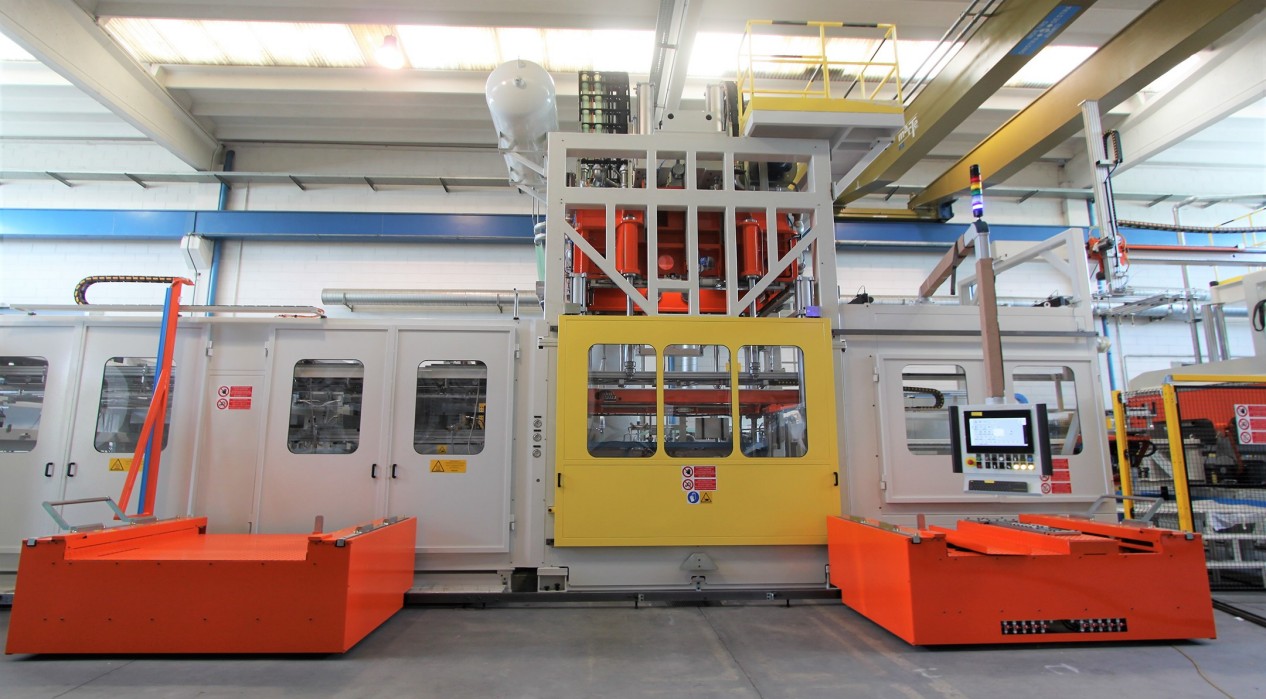 10 Giu

From thermoforming smarter machines to digital solutions
Solutions from COMI are a reference point for thermoforming machines employed in refrigerator manufacturing and other industrial sectors.
For more than 45 years, COMI S.p.A. thermoforming machines have been setting new benchmarks for efficiency and performance. Now the solutions support even more efficient operations, enabling significantly reduced training requirements and helping to cut streamline diagnostics and troubleshooting thanks to a future-oriented visualization solution based on SIMATIC WinCC Unified.
COMI's journey from its beginnings in 1973 to recognized leadership in thermoforming machines – with more than 3,500 systems installed in over 50 countries all around the world, a top-level reference list, and a brand among the most prestigious in its market – was no accident. COMI has always been committed to innovation. Every year, 10 % of the company's turnover is invested in research and implementing new technologies and patents. One of the latest innovation initiatives at COMI is making machines Industry 4.0-ready: COMI already produces interconnected machinery that is quickly programmable and equipped with artificial intelligence. With these solutions, COMI helps its customers benefit from greater flexibility, reduced errors and downtime, better quality, significant reductions in cycle times, and fewer rejects.
Automation and visualization as key technologies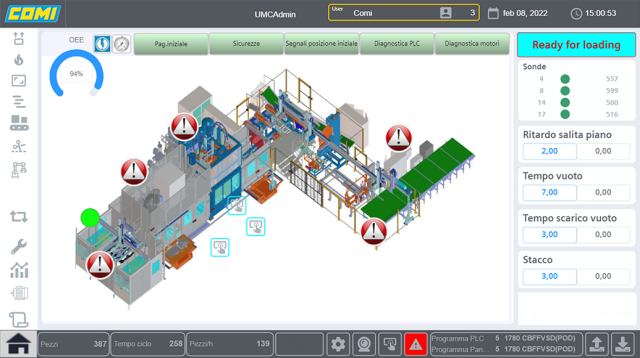 SIMATIC WinCC Unified has greatly enhanced user-friendliness for machine operators.
Part of COMI's innovation strategy is choosing the right partners to improve COMI's solutions, especially in the fields of automation and digitalization. For example, COMI collaborates with 40Factory, a tech startup from Piacenza specializing in Industry 4.0 and the digitalization of industrial machines, plants, and systems. 40Factory has also entered a technology partnership with Siemens to advance the digital transformation of their machines. Following the adoption of state-of-the-art automation and motion control systems – for example the SIMATIC S7-1500 PLCs and SINAMICS S120 drives – COMI next focused on implementing an innovative solution for machine visualization and operation. The main goal of the project was to create a solution that would be extremely user-friendly as well as easily customizable and that would offer an open architecture to enable data exchange with systems on the IT level or with cloud solutions.
Customized for optimum functionality and usability o: p>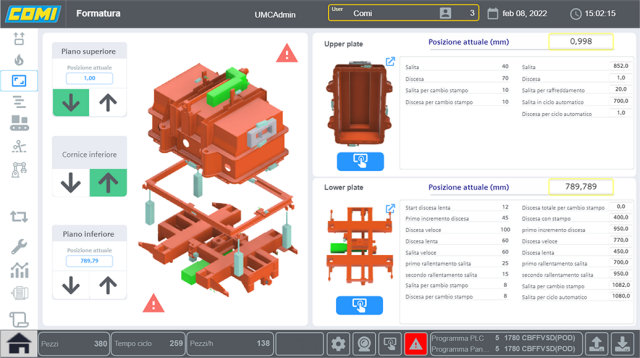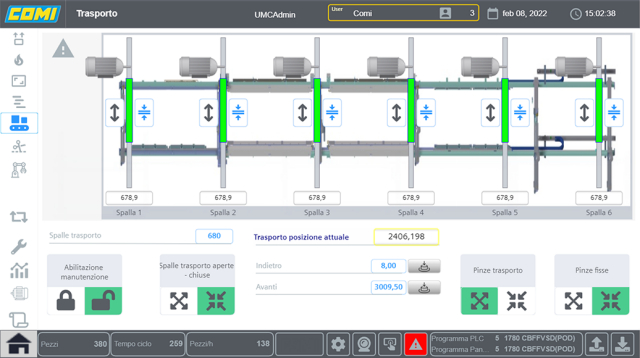 This new visualization solution is based on the SIMATIC WinCC Unified visualization system that offers the latest web technologies with open interfaces to provide the required flexibility and an industry-grade SIMATIC IPC477E embedded Panel PC for data visualization and machine operation. In a first step, the integrator 40Factory cooperated with an agency to create a dedicated UI/UX design, comprising a scalable vector graphics (SVGs) library and a template for the user interfaces, which was then implemented in WinCC Unified. Moreover, users now benefit from features such as automatic machine parametrization (using product characteristics) and easy troubleshooting (thanks to automatic diagnostics). SIMATIC WinCC Unified was the key to streamline operator tasks as well as to eliminate complex manual processes that required special training, such as preheating bed configuration. This process can now be set up automatically, thanks to user-defined controls that are easily integrated in the operator interfaces via Custom Web Controls. User interface features can be changed and adapted to each user's role, providing optimum functionality for operation, maintenance, and administration; and the visualization system can send targeted notifications to support fast and efficient troubleshooting. Thanks to Web-technologies and SVG graphics, machine visualization and operation – is available locally, but also on various devices, including Tablet PCs and smartphones. As SIMATIC WinCC Unified is fully integrated in TIA Portal, COMI can use a single, uniform engineering framework for automation and the visualization. TIA Portal also facilitates implementing a company-wide engineering standard, which reduces the time required for new automation projects.
Significantly reduced training requirements and more efficient troubleshooting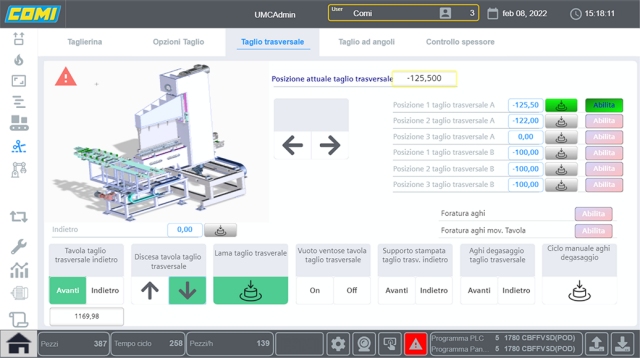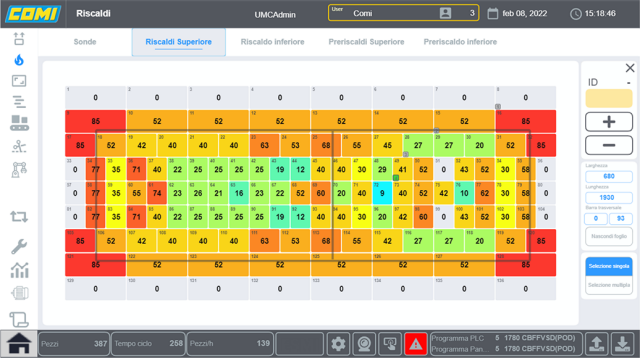 These features are perfectly in line with COMI's dedication to giving its customers a comprehensive solution using the latest technology and offering the highest performance. Thanks to SIMATIC WinCC Unified, COMI now produces smarter, more innovative machines that better support the machine operators. Productivity is increased by as much as 10 % thanks to the optimized process operation using CWCs, resulting in significant reductions in cycle times, fewer rejects. On top of that, the operators spend up to 10 % less time spent with training, and there are up to 10 % less human errors thanks to the optimized user guidance via notifications and gestures. However, innovation at COMI will not stop there: the company is already working on a software solution for creating digital twins for their machines. This will enable COMI to further increase machine performance through machine simulations and to reduce project lead and commissioning times through early testing and optimization, so that users will enjoy even better performance from their COMI machines.